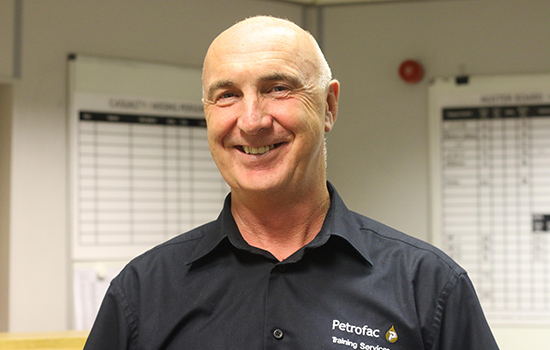 Montrose
Joined 2013
What is your current role? 
As a Major Emergency Management (MEM) Instructor, I coach and assess individuals, whose roles range from Control Room Operators and Shift Supervisors to Offshore Installation Managers, to the required OPITO competence/Petrofac Training Services standards. I deliver training to people from all over the world who work both onshore and offshore.
What is your previous industry experience?
I was a Police Officer for over 30 years serving with Grampian Police in Aberdeen. Between 2002 and 2012 I was head of Firearms Training and Operations, responsible for training 120 Firearms Officers in how to deal with spontaneous and pre-planned critical incidents. The focus of this training was around the value of decision making under pressure, coupled with constructive de-briefing post scenario. This knowledge is now shared in my role for Petrofac.
What sets Petrofac's instructors apart?
We have a passion for teaching emergency management and patience in our delivery.
What is your biggest achievement whilst working for Petrofac?
Over the past 12 months I have been involved in pre-start up training with Total staff at the Laggan and Tormore Plant in Shetland. My focus has been on the Control Room Operators and Shift Supervisors, managing the first stages of a spontaneous emergency. When the plant went 'live', I felt a sense of achievement that I had played a role in training the team.
When have you gone beyond expectations to help someone through their training?
Every time I am responsible for a delegate who is attending training and assessment, I make it my duty to ensure they get the best opportunity to demonstrate their skills. If they do not meet the required standard, I will carry out involved one-to-one training in an effort to get them on the right track to achieve their goal.