A first for the industry
When it opened in 1978, the centre was the first of its kind in the offshore industry. It remains one of the most advanced oil and gas training centres in the world.
Nine specially designed modules closely replicate the systems and equipment found on onshore facilities and offshore installations, enabling the simulation of emergency response activity.
Where to find us
Montrose Training Centre,
Forties Road,
Montrose,
Angus,
DD10 9ET,
Scotland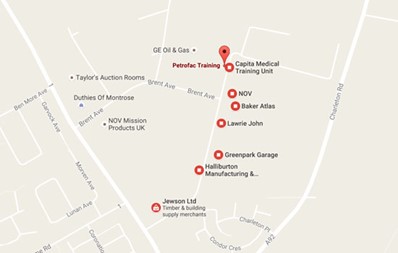 Fire training facilities
Experts provide realistic link-ups between our major emergency management simulators and fire and gas simulation, allowing for real time response decision-making, communication and teamwork. Facilities include:
Three-storey training module – principally for simulating offshore and onshore gas and hydrocarbon fire-fighting techniques
Two-storey training module boasting a full-size helideck – for simulating a heavy landing, low impact crash scenario or full scale fire
Two-storey simulation production and process module, which simulates fires from wellheads, flanges, ruptured pipework and vessels – to provide experience of gas and hydrocarbon pressure fires and hydrocarbon spills
Accommodation block – to practise search and rescue operations in smoke-filled compartments and essential breathing apparatus training
Helicopter – for helicopter landing officer training, helideck assistant training and helicopter refuelling.
Confined Space Rescue modules
Gas Testing modules
Additional facilities
Three OPITO accredited major emergency management simulators
A one km, 10-inch diameter, 150-class pipeline training, testing and research facility – this piece of equipment was the first of its kind available for training in the UK
Two wells – for use in a variety of well testing and wire line courses - one cased to a depth of 609m and one open hole to a depth of 502m
24 classrooms
Courses
Courses are delivered to both offshore and onshore oil and gas environments and are also relevant to the pharmaceutical industry, marine industry and the armed forces.
All courses are delivered to industry accreditation standards, including those set by the Offshore Petroleum Industry Training Organisation (OPITO) , Joint Oil and Industry Fire Forum (JOIFF), International Association of Drilling Contractors (IADC) and the MCA.
We offer 40 accredited courses along with bespoke-designed, company-specific emergency response training programs, covering:
Offshore Emergency Response Team Member
Offshore Emergency Response Team Leader
Further Offshore Emergency Response Team Member/Leader (incorporating night-time fire fighting)
Offshore Emergency Helideck Team Member/Leader
Offshore Emergency Response Combined Helideck & Team Member
MCA (STCW) Fire Prevention Fire Fighting, Advanced Fire Fighting & Updating Proficiency Fire Fighting Courses
Confided Space Rescue
Authorised Gas Testing
Banksman and Slinging Operations
Greenhand Training
Fabrication and Welding
Our major emergency management simulators are accredited to undertake OPITO approved Offshore Installation Manager, Control Room Operator and Major Emergency Management Initial Response training.
We can design and deliver bespoke training programmes to answer our clients' specific needs. We're also able to support corporate fire safety plans by providing fire safety audits and risk assessment.